Client always suffer from water leakage problems. Many companies provide water proofing works are palliatives. In the short period of time, it may stop the water leakage. However, it cannot prevent water leakage permanently. We can provide one stop solution to solve the water leakage problem.
We advocate "repairing after testing", by using accuracy equipment to locate the source of water leakage then repairing focus to the source. This can put an end to the water leakage problem.
If you have any enquiry, please call 6518 3092/5423 3828 (Equiry hotline)
Partial Court Case Job Reference
Siena 2, Discovery Bay

DCCJ 1529/2017

Yee On Court, No.124B Argyle St.

SCTC40384/2018

Fu Keung Court, Wong Tai Sin

DCCJ 2924-2014

Tower 1, Kam Lung Mansion, Yuen Long

SCTC007076/18

Tycoon Place, Tai Po

SCTC42098/2017

Chung Ming Court, Tseung Kwan O

SCTC042681/18

Harbour View Garden, Kennedy Town

DCCJ 3878/2014

New Central Mansion, No.43 Gage Street

DCCT712/ 2017

Wah Lung Industrial Bldg., Tsuen Wan

DCCJ 4468-2015

South Horizons

DCCJ 1992/2016

Kwai Lok Bldg., Kwai Chung

DCCJ 4803-2016

Hing Fat House, Yuen Long

SCTC50266/2018

Mei Wah Bldg., Wan Chai

DCCJ 4919/17

Cheung Wah Estate, Fanling

SCTC 8952/2018

Sherwood Court, Happy Valley

DCCJ 4959-2015

Ying Loy Mansion, 19-25 Yu Chau Street

DCCJ 2322/2015

Hong Lam Court, Sha Tin

DCCJ 3244-2015

Wah Chun Industrial Centre, Tsuen Wan

SCTC4871248713

/2018

Tsat Tsz Mui Rd., North Point

DCMP1310/2016

Kam Ying Court,

Ma On Shan

SCTC 53785/18

Sunshine City, Ma On Shan

SCT048853/16

80 Robinson Road

SCTC038148/18

Whampoa Garden, Hung Hom

SCTC000271/16

Kai King Building, Kwun Tong

SCTC005408/19

Riviera Gardens, Tsuen Wan

SCTC002198/18

Tower 2, Kam Lung Mansion, Yuen Long

SCTC8076/2018

Phoenix Court, Kowloon Tong

SCTC036744/16

Bedford Gardens, North Point

DCCJ2287/2018

Siu Lung Court, Tuen Mun

DCCJ3081/2014

Lai King Mansion, Quarry Bay

SCT021994/19

Villa Verde, The Peak

LDBM 78/2018

Dorboa Building, Tuen Mun

DCCJ2118/2019

Yin Tin Court, Sha Tin

DCCJ2605/2016

Phase 15, Positano, Discovery Bay

DCCJ2287/2018

Bank Building, Kwai Chung

DCCJ 5344/2016 & 4746/2016

Sheung Hee Building, Cheung Sha Wan

SCTC 21048/2019

Shun Hing Bldg., MongKok

DCCT5369/2015

Grand Garden, No.61 South Bay Road

DCCJ 3606/2015

Riviera Gardens,

Tsuen Wan

SCTC020645/19

No.33 Wing Hong Street, Lai Chi Kok

SCTC025695/19
The water investigation provided by the Governement is not comprehensive and out-dated. The result will be released after few months or few years after completion of survey. The list below (only have chinese version) show that the successful rate to identify the water source by the Governement is only approixmately 15%.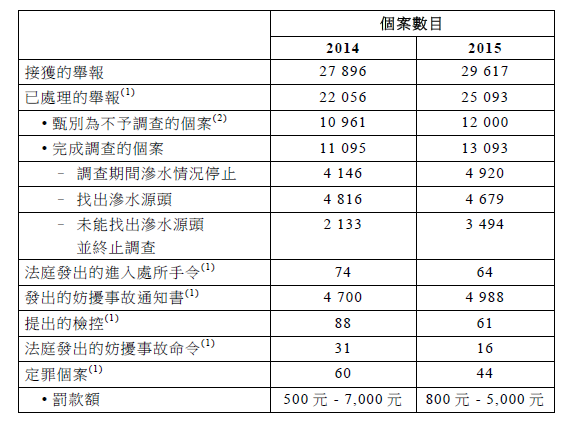 Our testing methods include:
Visual Inspection

High resolution infra-red scanning

Advanced Microwave scanning

High sensitivity moisture detection

High penetration fluorescent dye and UV light test

pH test

Content of Salt (NaCl) test

Professional Water tests

Flow meter test

Eletromagnetic wave scanning

After receiving the enquiry from client:
To provide the most suitable solution according to the site condition.

Through accuracy equipment and testing method, identify the source of seepage.

To issue an inspection report includes remedial suggestion, cost estimation and related damage assessment. The report is endorsed by Authorized Person (AP) which is high acceptability and can be adopted in the litigation and meeting.

According to the remedial suggestion in our inspection report, to solve the water leakage problem.
Our water leakage detection service provided to residential buildings, commercial building and shopping mall, etc. (include the area below):
Toilet, bathroom and kitchen

Drainage and water supply pipes

windows, window-sills and balconies

Water Proofing of rooftop and external wall

Car park and swimming pool