Client always suffer from water leakage problems. Many companies provide water proofing works are palliatives. In the short period of time, it may stop the water leakage. However, it cannot prevent water leakage permanently. We can provide one stop solution to solve the water leakage problem.
We advocate "repairing after testing", by using accuracy equipment to locate the source of water leakage then repairing focus to the source. This can put an end to the water leakage problem.
If you have any enquiry, please call 6518 3092/5423 3828 (Equiry hotline)
The water investigation provided by the Governement is not comprehensive and out-dated. The result will be released after few months or few years after completion of survey. The list below (only have chinese version) show that the successful rate to identify the water source by the Governement is only approixmately 15%.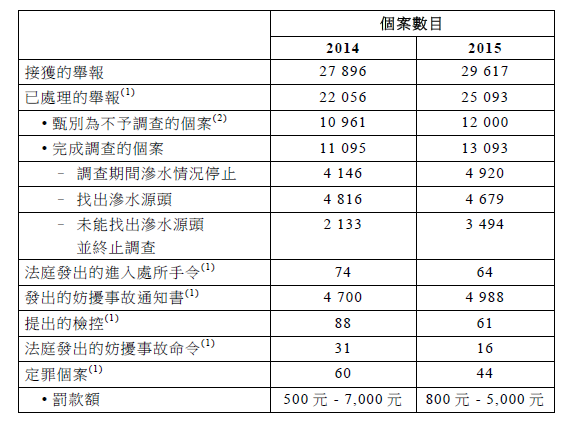 Our testing methods include:
Visual Inspection

High resolution infra-red scanning

Advanced Microwave scanning

High sensitivity moisture detection

High penetration fluorescent dye and UV light test

pH test

Content of Salt (NaCl) test

Professional Water tests

Flow meter test

Eletromagnetic wave scanning

After receiving the enquiry from client:
To provide the most suitable solution according to the site condition.

Through accuracy equipment and testing method, identify the source of seepage.

To issue an inspection report includes remedial suggestion, cost estimation and related damage assessment. The report is endorsed by Authorized Person (AP) which is high acceptability and can be adopted in the litigation and meeting.

According to the remedial suggestion in our inspection report, to solve the water leakage problem.
Our water leakage detection service provided to residential buildings, commercial building and shopping mall, etc. (include the area below):
Toilet, bathroom and kitchen

Drainage and water supply pipes

windows, window-sills and balconies

Water Proofing of rooftop and external wall

Car park and swimming pool